Our Process
From Casting...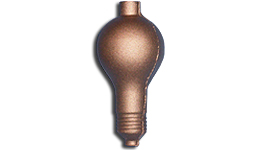 We are a small foundry. We think this gives us a degree of control and flexibility that bigger shops cannot match. But because we're small doesn't mean we can't work big. Our casting weights can be 1 oz. in aluminum to 500 lbs. in brass. We have a 3,000 lb. per day capacity in bronze. Casting sizes can range from ¼" to 14 feet.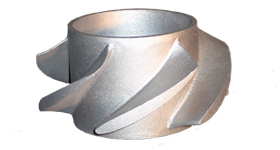 We use traditional molding techniques – bench, floor, match plate, and automatic molding. We use the sand processes of green sand, petrobond, shell, no-bake, and CO2 . We combine size adaptability, materials knowledge, and production flexibility with the latest technology.
---
To Finishing


Our hands-on experience allows us to design our molds in such a way that machining and finishing costs and scrap materials are kept to a minimum. This saves you money and it saves us time. We will hand finish, sand blast, wheelabrate, polish, tumble, and machine to your specifications.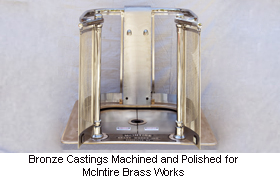 We provide certificates of compliance, chemical/physical analysis, and heat treating. We will meet x-ray and dye penitrant standards for all commercial and military applications. Obviously, a good finish cannot hide a bad casting. But it can enhance a great product.